If you have to renew your old passport, you can apply online by visiting the passport service website. You can apply for a passport for all passport services through the online website and also through the mobile app for more information. You can go to the official passport website.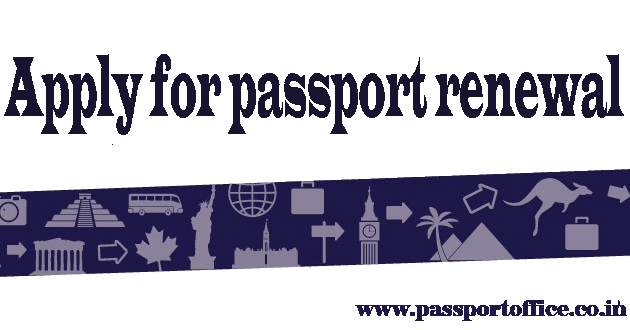 How to apply for online passport renewal process?
If you have to fill the application for renewal of your old passport, follow the steps given below:
Through Passport Seva official website.
Through mPassport Seva official Apps.
Through Passport Consultancy Services.
Go to Passport Seva official website, mPassport Apps.
Register through the Passport Seva Online Portal & Open the app.
Click here to "New User Registration"
Login to the Passport Seva Online Portal with the registered Login Id.
Click "Apply for Fresh Passport/Renewal & Re-issue/PCC" link.
Type of Application "Apply for Normal/Tatkaal Mode" link
Fill in the required details in the form and submit.
Click the "Pay and Schedule Appointment" link on the "View Saved/Submitted Applications" screen to schedule an appointment.
Online Payment has been made mandatory for booking appointments at all Passport Seva Kendras/Passport Offices. Online Payment can be made using any one of the following modes:
Credit/Debit Card (MasterCard and Visa)
Internet Banking (State Bank of India (SBI) and Associate Banks and Other Banks)
SBI Bank Challan
Click the "Print Application Receipt" link to print the application receipt containing Application Reference Number (ARN)/Appointment Number.
Visit the Passport Seva Kendra (PSK)/Regional Passport Office (RPO) where appointment has been booked, along with original documents.
On successful completion of payment, you will receive confirmation of appointment and an appointment number. An SMS with details will also be sent. Print a copy of the application receipt. All PSKs now also accept SMS for proof of appointment.
Through Passport Consultancy Services.
If you want to get a passport through a passport agent, you can click on the link below.
If you want to apply for a passport online, you can also apply for a passport through passport agent and counseling service for your passport application. We have launched Passport Agents and Consultancy Services with the aim of serving our clients with the best and reliable online passport assistance in India.